The Grand Finale of the Mr. Miss & Mrs. Face of PANACHE RUNWAY, Season 6 took place at the Sahara Star, Mumbai on Sunday, 29th January. Under the guidance of Founder & Director Vishal Kapoor VK, the winner was announced and crowned as the brand face for 2023 in the presence of prominent figures from Bollywood and the fashion industry, including Neelu Kohli, Akansha Puri, Donald Bist, Amit Tyagi, Shhyam Singhania, Vaishnavi Macdonald, Twinkle Vasisht, Sneha Wagh, Sanjay Gagnani, Vijay Ganguly and more. The crowning ceremony was a celebration of the winners hard work, dedication, and exceptional talent, and was a truly memorable experience for everyone involved. The coveted crowns were unveiled by Femina Miss India runner-up Manya Singh.
The winners of PANACHE RUNWAY include:
* WINNER & Mr. STYLISH – RANJEET SINGH RAJPUT
* WINNER & Miss FITNESS DIVA – REENA BIJU
* WINNER & Mrs. BODY BEAUTIFUL – SWATI RAUT
* INTERNATIONAL WINNER & Mrs. MAGNIFICENT – BARNALI BARO
* CLASSIC WINNER & Mrs. BEST PERSONALITY – MANJIRI PHANSALKAR
* REAL WOMAN & Mrs. WOMAN OF SUBSTANCE – SANGEETA MURDIA
* UNIQUE, ENTERPRISING WINNER & Mrs. BEAUTIFUL SKIN – JUMANA MORBIWALA
* CLASSIC GOLD WINNER & Mr. BRIGHT – PRADEEP NARWELKAR
* 1st RUNNER-UP & Mr. BEST RAMPWALK – GANESH IYER
* 1st RUNNER-UP & Miss BEST RAMPWALK – LAXMI BASNET
* 1st RUNNER-UP & Mrs. BEAUTIFUL HAIR  –  SONAL BAGWE
* 2nd RUNNER-UP & Mr. INTELLECTUAL – KETUL PATEL
* 2nd RUNNER-UP & Miss PHOTOGENIC – SHREEYA DHUMAL
* 2nd RUNNER-UP & Mrs. CONFIDENT  – SONALI SURYAVANSHI
The subtitle winner at a the glitzy evening include:
* FACE OF PANACHE RUNWAY 2023 – Mr. CHARISMATIC SHRILESH EBRAAMPURKAR
* FACE OF PANACHE RUNWAY 2023 – Mr. BEST PHYSIQUE PRASAD MALAYE
* FACE OF PANACHE RUNWAY 2023 – Mr.  TALENTED VIPIN LOKHANDE
* FACE OF PANACHE RUNWAY 2023 – Mr. VIBRANT NISHANT TIWARI
* FACE OF PANACHE RUNWAY 2023  – Mrs. CHARISMATIC SONAL WAGHMARE
* FACE OF PANACHE RUNWAY 2023 – Mrs. VIVACIOUS NILAM DESAI
* FACE OF PANACHE RUNWAY 2023 – Mrs. CONFIDENT SMITA DHUMAL
The Face of Panache Runway is a renowned platform for aspiring fashion and glamour professionals to showcase their talents and gain valuable exposure in the industry. With the chance to learn the intricacies of the business and develop the skills needed to succeed, past winners have gone on to achieve great success in the glam world.
As the founder and director of Mr. Miss & Mrs. Face of Panache Runway, Panache Image Awards, and Queen's League Golden Awards, Vishal Kapoor (also known as VK) handpicks the best faces each year to serve as brand ambassadors, providing them with a platform to secure projects, media coverage, and brand endorsements.
Not only does VK design exclusive red-carpet gowns for the contestants, but he also provides them with a picture-perfect makeover to bring out their best on the runway.
Some of the finest brands also supported the event. Presha Creation marked its presence on the winner's head by being the Crown partner, Prashant Samtani Photography as the Photography partner, Colours Makeover & Sparkle by Saima as the Hair & Make-up partner, Art Media as the Outdoor Media partner, Bombay Filmfame as the magazine partner, and Roots Nourish Naturally, Aarka Decor & More, Shiva's Chocolate, APL Techno & OG watches as the Gifting Partners!
Swati Lanke is a Maharashtra zonal head for the Mr. Miss & Mrs. Face Of Panache Runway and Queen's League. Along with that, the jury members included were:
* Abhijit Mhatre
* Shital Chaudhari
* Dilip Paryani
* Swati Lanke
* Abhijeet Yadav
The show was hosted by Parvej Mantrri and Tanvi Gadekar, while Dolly Gadre reprised her role as the Face of Panache Runway, season 6 choreographer.
The prominent media partners that supported the event include Saas Bahu Aur Beetiyan, Mumbai Raftar News, Khabar 24, Bollywood Helpline, Bollywood Flash, News Alert, Samay Rashtriya, Samna, Navbharat, Nationalviews.com, and many more. The glamorous evening also witnessed an elegant Kathak performance by Lakshya Sharma.
Separately, Meenakshi Pange was named as the Brand Ambassador of Queen's League, season 3, along with ANUJA ZAVERI, MRUNAL GAIKWAD, NILIMA PATIL, Dr. SNEHLATA GADAM, ASMITA NADE, SONAL HAJARE, SONAM ANCHALWAR, ROOPA SHASTRY, AARTHI PRIYANKHAA, RAJASHREE BASAVARAJ. The 10 beauty queens were felicitated with the prestigious golden award and a Coffee-Table-Book that celebrates their wins and captures their journey towards success.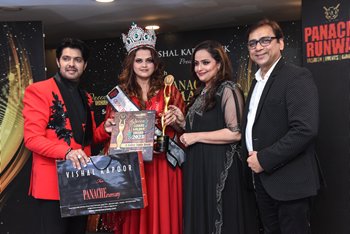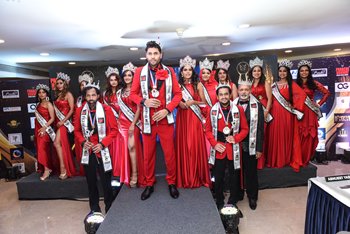 The Grand Finale Of The Mr  Miss & Mrs  Face Of PANACHE RUNWAY  Season 6 Concluded In Mumbai On 29th Jan 2023